Appraising Your Collection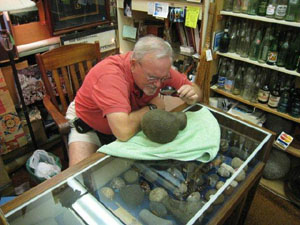 Steve Goodenow owner of Hawaiian Stones & Artifacts has appraised many major collections of Hawaiian Artifacts and Bottles for insurance purposes, estate matters, legal disputes and private collectors.
Appraisals cannot be conducted over the phone since there are many variables that must be taken into consideration. Among them are:
Rarity of piece - As an example many bottles look alike but some with slight variations can be quite rare.
Condition - As they say: condition, condition, condition. A chip, tear, or scratch can greatly devalue a piece.
Artistic Presentation - Just like valuable art, Artifacts of the same type differ in value based on how the piece looks, the material used, the color and texture.
Provenance - The history of the artifact is important. Where is it from; who owned the piece; how was it discovered are all important determining factors when considering value.
Retail sales of similar items
Auction records of similar items
Inquiries are always welcomed via email at hawaiiancollectibles@gmail.com or by contacting Steve Goodenow at 808 225-3508.